Looking for Solutions in a Rapidly Changing US HealthCare Environment?
U.S. health care system remains a fragmented and unwieldy structure whose rising costs bear little relation to improvements in access or quality. This is despite the introduction of patient management programs, some restructuring of insurance models and efforts to adjust incentives for decision making all across the care continuum. Innovation in a Changing Health Care Environment is key to be successful for your organization.

Reliance and Security
When clients outsource their product/project development to us, we realize that they are entrusting their revenue lifeblood to an "outsider." We have therefore taken exceptional precautions to ensure that our services run reliably and securely. Our network and operation infrastructure  are designed to run 365 days per year. In fact, since initial operations, our firm has never lost a day of productive service. All computers are on an Uninterruptible Power Supply. We are based on a reliable power grid. Our offices have full backup diesel power generators.
OUR DISTINCT SERVICES
We offer our expertise in three distinct areas, we have been helping start-ups as well as enterprises to bring out their ideas and dreams to the market place for the past several years.
OUR TECHNOLOGY STACK
We "enjoy" building most of our server back-ends using Ruby on Rails, and use a number of technologies, like AJAX, Angular, backbone.js and other popular(and ever changing) frameworks for application front ends. We prefer to build native mobile applications.











Ruby 2 College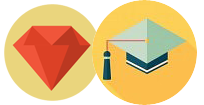 Through our in-house training experience, we have realised that the freshers who joins the corporate right after finishing their education are good in their technical knowledge and skills. But sadly they lack depth in programming skills, software engineering skills, business communication skills, corporate etiquette, customer interfacing skills and other soft skills such as working in Team etc.